Ready to buy a plane?
Aircraft Acquisitions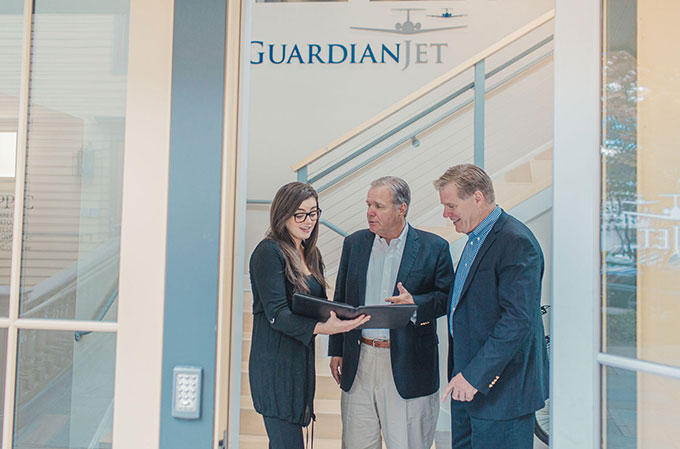 When it comes to buying a new airplane, Guardian Jet will help you find the right aircraft, for the right price at the right time. Our robust aircraft acquisition process is very thorough and comprehensive.
Guardian Jet is an industry leader in pre-owned and new jet purchases. In fact, more than half of our aircraft brokerage business involves purchasing airplanes on behalf of our clients. We represent the entire spectrum of buyers, from first-time jet owners to Fortune 100 (Part 91) flight departments.
Buy a Plane and Save
Our team of professionals is best suited to purchasing new aircraft in partnership with our clients. Collectively, we have 100+ years of experience working for equipment manufacturers, including Gulfstream, Bombardier, Cessna, Hawker, Beechcraft, Learjet, Bell, Agusta, Sikorsky and more.

In conjunction with your aviation team and purchasing department, our stringent Request for Proposal (RFP) process incorporates practical insights and nuances that we have gained from writing hundreds of new aircraft agreements.
Three reasons to hire us to buy your new jet, helicopter or fleet of aircraft:
You'll save money.
You'll have a better transaction when we combine your business expertise with our brokerage experience.
You'll save time and gain access to more resources by outsourcing the heavy lifting.
Experience in Aircraft Acquisitions
From the initial search process, to the Offer Letter, the Purchase Agreement, and all the way through the pre-buy inspection and closing, we'll skillfully manage your aircraft acquisition process, applying the highest ethical standards in the industry. And, we'll keep you informed throughout, and actively engaged when necessary.
When hiring Guardian Jet to represent you in the acquisition of an aircraft, you are tapping into decades of experience in the turbine market place, and utilizing a highly regimented and proven process developed over the course of many acquisitions.

Each successful aircraft acquisition involves the Guardian Jet's team:
Understanding your priorities
Understanding value through market experience and due diligence
Executing in a timely manner
Coordinating the purchase/delivery based on your fleet transition strategy
The Guardian Jet Difference
Buy a Plane Today!
Let us combine our expertise with your business intelligence and together we will craft a better deal. Call us at +1 203-453-0800. Or complete this form and we'll respond as soon as possible regarding your jet purchase.