Consulting
Asset Management
At Guardian Jet we think of your aircraft as assets in a portfolio.
Asset Management is essentially Fleet Planning on an ongoing basis where calendar and opportunity driven decisions are analyzed as to whether to stay on plan, accelerate the plan, delay the plan or change the plan. At the appropriate review points the fleet plan is updated with current fair market values, replacement values and market conditions.
Your plan is reviewed on a quarterly basis that includes revaluing your fleet and a thorough examination of the current market conditions.
Deliverables
Quarterly Report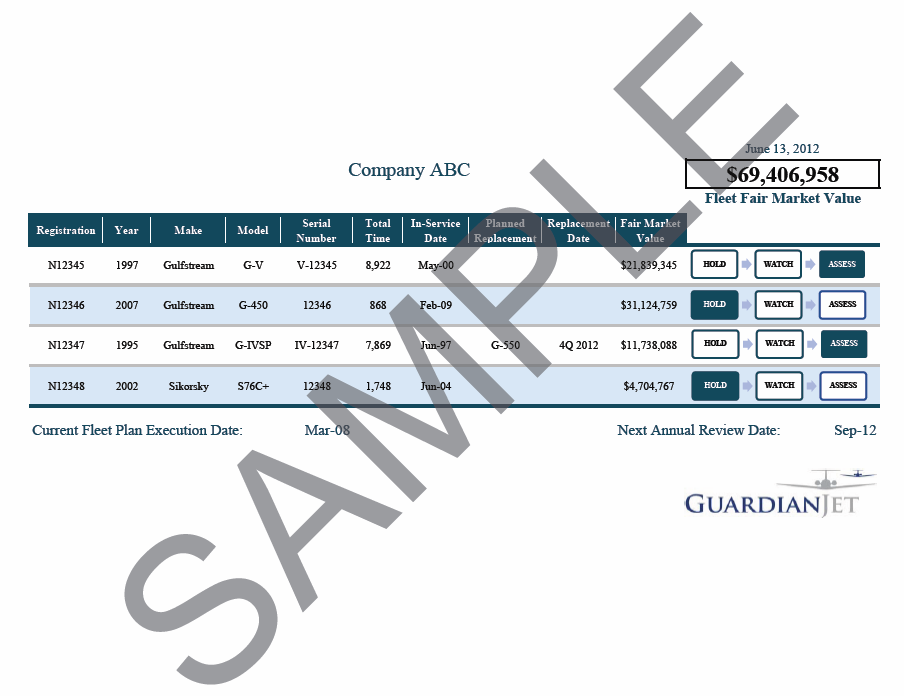 Click to view Quarterly Report example.
Annual Review
The update of your Fleet Plan
CONTACT US:
For more information, please call us at 203-453-0800 or email us at info@guardianjet.com
Find out the Fair Market Value of your Aircraft Learn more »
With some basic information about your aircraft, we will produce (at no charge) a Fair Market Value.
WANT MORE DETAIL?
Become a registered user and learn more about Asset Management and how we can help. LEARN MORE>>