Consulting
HOW DOES IT WORK?
Available 24/7 via a web browser, Vault 3.0 is on a highly mobile-friendly platform.
 
Easy-to-use and visually intuitive, this remarkable tool works just like a smart device.
 
"As a financial market trader, it's fantastic to be able to find everything I need to know about my aircraft at the click of a mouse."
Vault 3.0: Online Asset Management & Brokerage Portal
The revolutionary approach to airplane asset management & brokerage services

VALUE YOUR AIRCRAFT
Understand the value of your current aircraft and/or market conditions for your next/first aircraft.
Access useful information in visual, mobile-friendly format.
MANAGE YOUR AIRCRAFT LIKE AN ASSET
Actively manage your aircraft assets like stocks in a portfolio over the short and long term.
Identify the right airplane, and conduct a trade at the right time and on the right basis.
Potentially save millions during strategic, well-informed and well-timed aircraft trades.
FIND A JET
Search for the perfect jet using JetFinder™.
Filter from among 130 aircraft models using personalized criteria that help you identify and research the right model(s) based on your specific interests and needs.
JetFinder is to airplane research what Zillow® is to real estate research.
STAY UPDATED ON AIRCRAFT TRANSACTIONS
Easily navigate the aircraft purchase or sales process, managing your next acquisition with real-time access to every step in the buying and selling process.
Get real-time access to the same sophisticated tools and information that we (as brokers) have at our disposal—from contracts, to technical comparisons, to value comparisons of every aircraft.
View your agreements, welcome package information, lists of the key players, all RFPs, technical comparisons for jets that match yours, financial documents, sales process updates, spec sheets and many other valuable informational tools.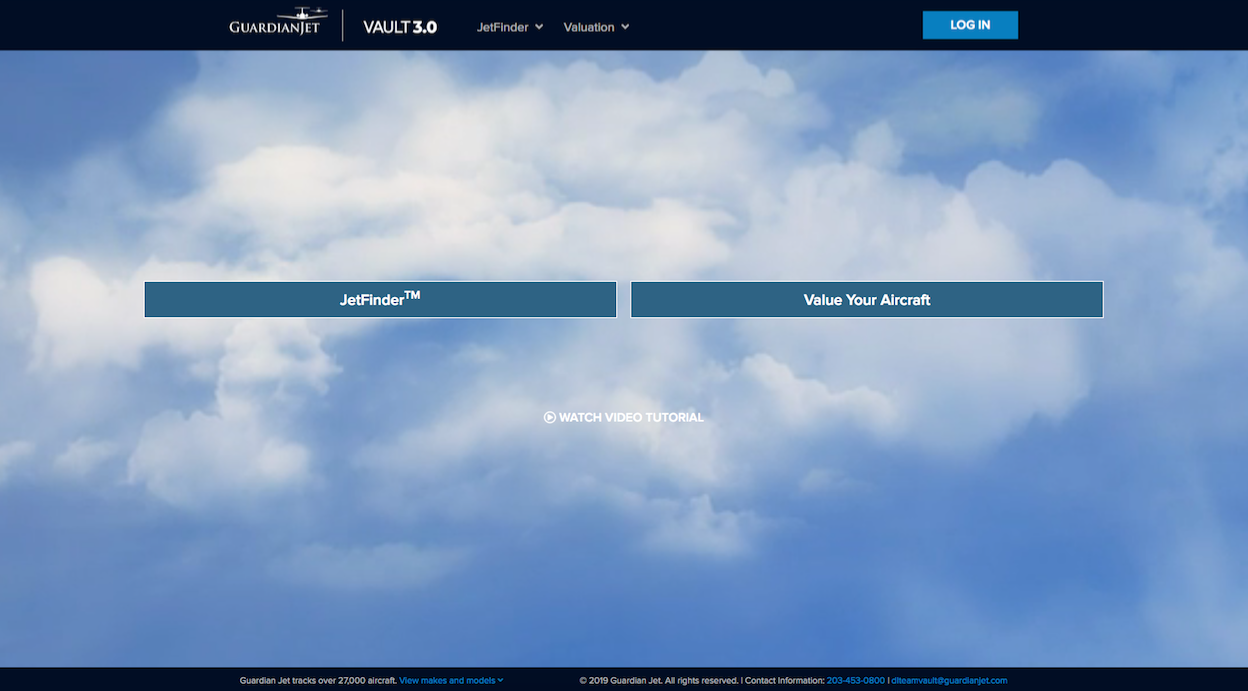 Unlock Your Vault!
Visit Vault 3.0 to see how this remarkable new portal can specifically help you save money and increase your asset management and brokerage efficiencies.
Benefits of Vault 3.0
The Vault 3.0 is a next-gen asset management portal designed for brokerage Clients of Guardian Jet.
Simply put, it:
Provides crucial knowledge and transparency around high-dollar airplane transactions—two things that are amiss in the unregulated world of aircraft brokerage services.

Delivers the best actionable analytics and insights for more informed decisions—both tactical and strategic decisions that will saves you millions with better timed and executed aircraft trades.

Offers real-time, 24/7 online access to asset management and brokerage information, including every financial document and detail regarding your airplane's make and model—simultaneous with those we receive at Guardian Jet. You can better understand and optimize aircraft values and the markets for 120+ aircraft models, along with replacement options.
The worst time to pick your broker is when you want to replace your aircraft. Why? Because you're potentially missing out on millions in savings.
Savings that can be easily gained when you use the aviation asset management tools in the Vault 3.0.

Our clients are already saving millions. And so can you.

Register
CONTACT US:
For more information, call +1-203-453-0800 or email us.
Find out the Fair Market Value of your Aircraft Learn more »
With some basic information about your aircraft, we will produce (at no charge) a Fair Market Value.